Hotel Villa Blanca Huatulco

Blvd. Benito Juarez esq. Zapoteco, 70989 Huatulco, Oaxaca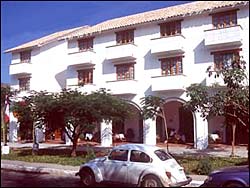 Click Here for Reservation in Hotel Villa Blanca Huatulco
» Location
Villa Blanca hotel is situated on the Pacific Ocean's coastline, in the southern Mexican state of Oaxaca, and surrounded by the most spectacular landscapes of the Occidental Sierra Madre.
» Description
StayResMexico.com provides complete information on Villa Blanca hotel and also on Mexico hotels, ranging from comfortable cheap hotels in Mexico to luxurious five star hotels in Mexico. Here you can get complete information on services and facilities offered by the Villa Blanca hotel in huatulco the best deal on discount Mexico hotels, online hotel reservations service, and an easy to use hotel booking facility. Please check online availability and special discount on Villa Blanca hotel in Mexico.

Villa Blanca hotel is a beautiful modern hotel built and appointed in a Mediterranean style, enjoying a privileged location in Chahue Bay. The hotel is located perfectly for exploring city's many wonders. It features 40 spacious rooms decorated with handmade furnishings and convenient amenities. The hotel with its heat warming facilities and personalized attention of the staff makes it an ideal choice of accommodation. The Jacarandas restaurant in the hotel premises serves with the best Oaxaca-style in a casual ambience.
» Hotel Facilities
Dive packages/ 3 dive shops on premises
Tennis court
On site Restaurant
Swimming Pool
On Site Bar
E-mail & Fax Service
Wedding Planner
Safety Deposit Box
Volleyball
Plane Reservations
Moped & Bicycle Rentals
» Room Amenities
Air conditioning
Ceiling fans
Refrigerator
Satellite TV
Telephones
Sunken tubs
Comfortable rooms with cable TV
Telephone with data port
Safe-deposit box
Balcony
Click Here for Reservation in Hotel Villa Blanca Huatulco