Hotel Fiestamericana Grand Chapultepec

Mariano Escobedo 759 Colonia Anzures, Mexico, Distrito federal, Mexico, C.P. 11590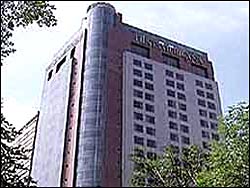 Click Here for Reservation in Hotel Fiestamericana Grand Chapultepec
» Location
Fiestamericana Grand Chapultepec hotel is located on Mariano Escobedo Avenue, close to one of the most important financial and commercial areas of Mexico City.
» Description
StayResMexico.com provides complete information on Fiestamericana Grand Chapultepec hotel and also on Mexico hotels, ranging from comfortable cheap hotels in Mexico to luxurious five star hotels in Mexico. Here you can get complete information on services and facilities offered by the Fiestamericana Grand Chapultepec the best deal on discount Mexico hotels, online hotel reservations service, and an easy to use hotel booking facility. Please check online availability and special discount on Fiestamericana Grand Chapultepec Mexico.

Fiestamericana Grand Chapultepec hotel stands out among other hotels as it combines the luxury and comfort along with special treatment to its guests. The hotel has been visualized and entirely dedicated to providing the very personalized guest services. All of the 203 rooms provide a sense of calm and peacefulness focused on relaxation and rejuvenation. Fiestamericana Grand Chapultepec has been designed with the business and pleasure visitors in mind which encompasses the concept of both luxury and comfort. The hotel and its staff strive to provide with quality service, personalized attention and excellence services.
» Hotel Facilties
Baggage hold
24-Hour front desk
24-Hour room service
Banquet service
Concierge
Mail services
Money exchange facilities
Doctor on call / Medical services
Multilingual staff
Coffee shop
Meeting room
Rooms for disabled persons
» Room Amenities
Air conditioning
Internet access in room
Cable / Satellite TV
Mini bar
Bedside telephone
Working desk
Smoke detector
Data port
Adaptor
Click Here for Reservation in Hotel Fiestamericana Grand Chapultepec